This offseason could very much be the biggest in recent years. With all the injuries on both sides of the ball and all the players who are set to hit free agency, the Redskins will have their hands full until preseason. For some positional needs, Washington may look to find those players through the upcoming NFL Draft in April. There is some tremendous talent that could perfectly fit in with DC. Let's look at the positions the Redskins should look to upgrade.
Safety
In the 2018-19′ NFL campaign, the Redskins had one the best safety duos in the entire league. The combination of D.J Swearinger and Ha-Ha Clinton-Dix were a force and rarely let up any deep balls over their heads. Swearinger led Washington in interceptions with 4. But with a stubborn front office, the Redskins cut D.J. during the season and let Clinton-Dix hit free agency.
As of now, the Skins have no clear starting safeties. This a concern that needs to be situated before the new season arrives. Luckily, the Safety free agency is the deepest and star studded list that has been available in a very longtime. With such a list provided, Washington have many options to look at and end up signing either short or long term.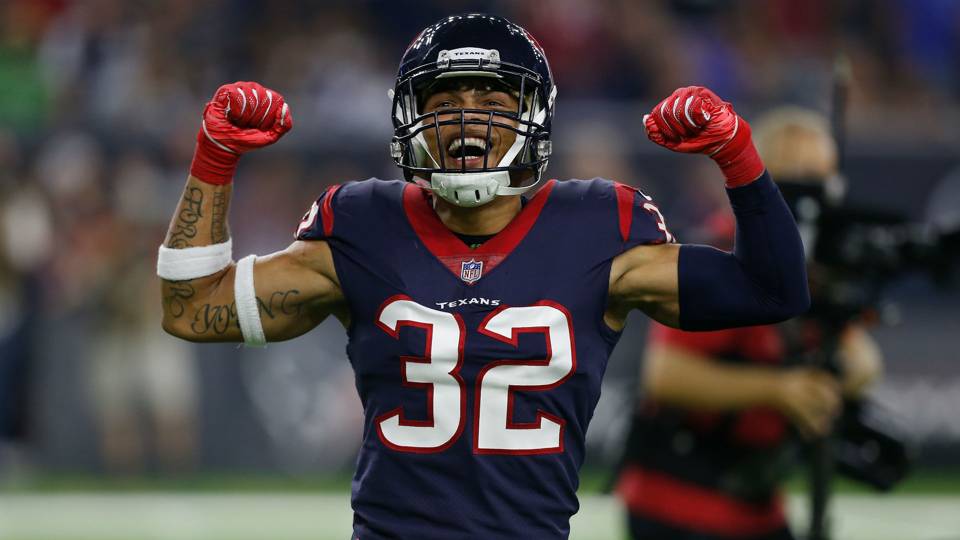 (Photo Credit: Sporting News)
Option #1:  Tyrann Mathieu
One option that could satisfy Washington's needs is former Cardinals and Texans safety Tyrann Mathieu. He has been one of the best safeties in the NFL in the past few season. Last season, he recorded 2 INT's and 3 sacks. QB's around the league know how skilled he is and at times try to avoid Mathieu's side. Not only can he be one of the best lockdown defenders but, he is a force and a presence that can't go unnoticed. Mathieu would be an excellent replacement for Swearinger, especially since they have similar playing styles.
Last season, Tyrann made a base salary of $2 Million, so with a limited salary cap that Washington has, he could be a terrific fit. Also, with a cheap salary, this could give the Redskins the opportunity to sign another safety to partner up with Mathieu. Being at a prime age of 27, the Redskins would be signing a player heading into their prime and could be an huge difference for the Skins on defense.
(Photo Credit: Colts Wire)
Option #2: Landon Collins
Another optimal option for Washington is beaming safety, Landon Collins. Since being drafted in 2015, he has recorded 8 INT's and 4 sacks. His speed and aggressiveness has allowed him to earn 437 tackles in his 4 seasons with the New York Giants. Collins has always had an impact in every game he has played, especially against none other than the Washington Redskins. In 4 seasons, Landon Collins has been selected to the Pro Bowl 3 times and was selcted to the 2016 All-Pro team.
Landon Collins says the dream is to be a Washington Redskin. His #1 choice

— Dianna Russini (@diannaESPN) February 21, 2015
In Collins' past, he has repeatedly told reporters that he has always wanted to play in D.C. As a kid, Landon Collins looked up to the legendary Redskins safety Sean Taylor. With all the connections he has with Washington, it is only fitting that we sign the star safety. Last season, Collins made a base salary of $1.3 million. Coming off a season ending shoulder injury, Collins shouldn't be asking for too much of a raise. This will be perfect in allowing the Skins to sign both Mathieu and Collins in a perfect world.
2. Quarterback
One of the biggest concerns heading into the offseason for the Redskins was, who will replace Alex Smith at starting QB. Recently, Bruce Allen called the Broncos front office to claim QB Case Keenum. He hasn't had the greatest showing in Denver. From multiple reports, the Skins aren't seeming to settle on their starting quarterback just yet. The looming question in Washington is if the answer to D.C.'s problem can be solved via the Draft or find another suitable trade for a franchise QB.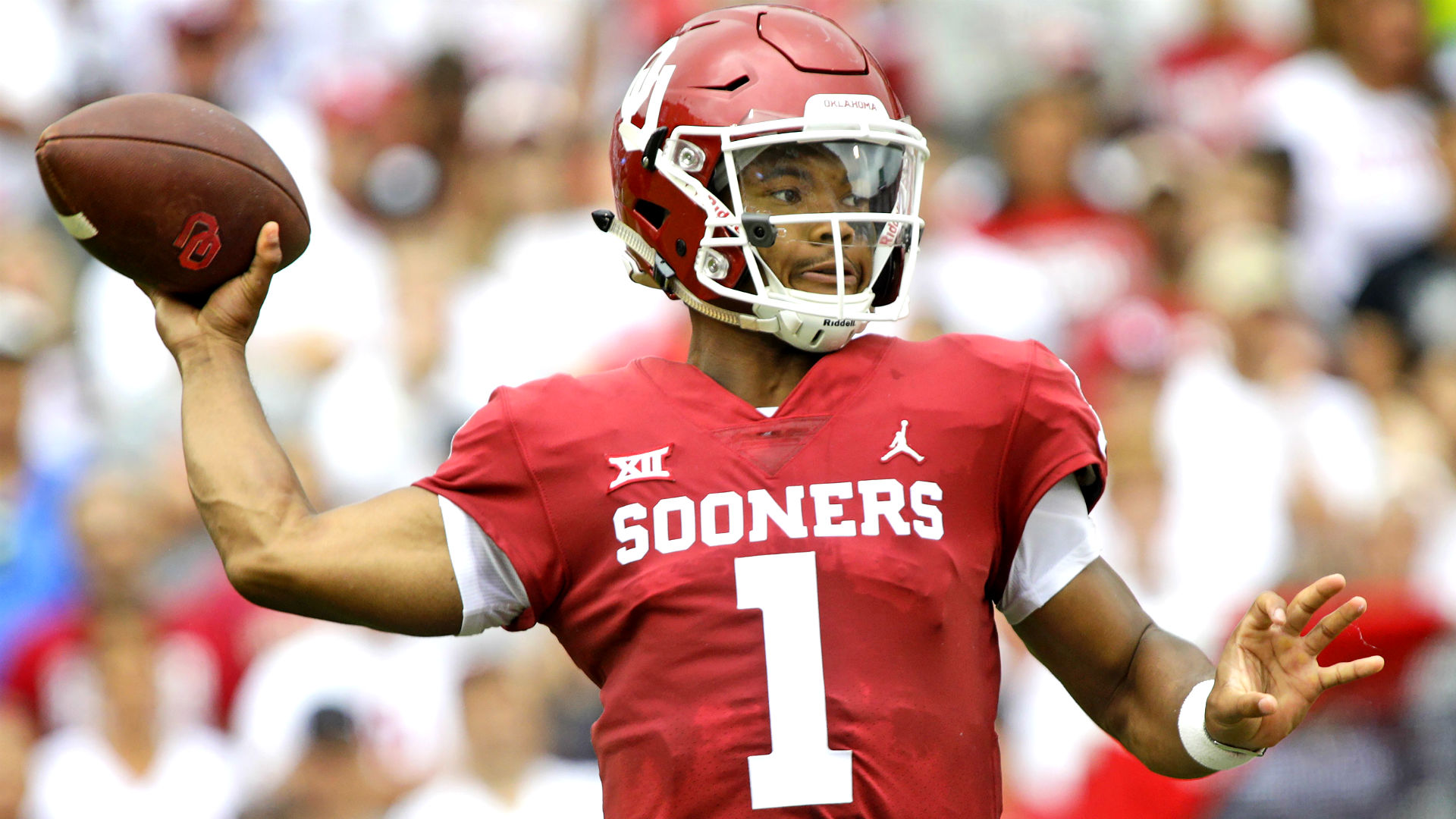 (Photo Credit: Sporting News)
Option #1: Kyler Murray
If the Redskins decide to find their franchise QB through the 2019 NFL Draft, then they may attempt to draft reigning Heisman Trophy winner, Kyler Murray. With a such a wide range of weapons that Murray possesses, he could end up being a nightmare for opposing defenses. In his Heisman campaign, Kyler threw for 4361 yards and 42 touchdowns in only 14 games. Altough, the world didn't get to see Murray compete at the NFL combine, he was able to prove the doubters of his size where he measure 5'10 and 207 pounds.
"This should end all doubts, [Kyler Murray] is going to be probably the No. 1 pick in the draft" —@maxkellerman 🤔

(via @FirstTake) pic.twitter.com/RKCOsxtDj0

— FanDuel Sportsbook (@FDSportsbook) February 28, 2019
The one problem about Kyler Murray is the question of where he may be selected in the draft. Per NBC Washington, the Redskins were very interested in trading up into the Top 5 of the draft to select Murray if the Cardinals didn't pick him with first pick. With the addition of Keenum, Washington may use him as a trading piece along with multiple draft picks
This could be very dangerous as the Skins haven't had the best luck when trading up for a QB. Last time Washington traded up for a quarterback was in 2012 where they selected Robert Griffin lll. The question the front office should be asking themselves, is it worth giving up many future picks and players for QB who has yet to play a single NFL game?
(Photo Credit: The Boston Globe)
Option #2: Josh Rosen
With Arizona Cardinals seeming to draft Murray with the No.1 pick, the Redskins should strongly consider trading for the 2018 No.10 pick, Josh Rosen. Last season in his rookie year, he didn't have the flashiest year amongst the other rookies. But, with such a limited offense and not gaining the starting job until a few weeks into the season, Rosen was having a difficult time finding success in Arizona. In 13 games starting, he threw for 2278 yards and 11 touchdowns with 14 interceptions.
Redskins now the odds leader in trading for Josh Rosen pic.twitter.com/nP2SpU8Pdr

— JP Finlay (@JPFinlayNBCS) March 5, 2019
After a disappointing rookie season. Josh Rosen may not be highly valued. This would mean the Redskins shouldn't have to give up a pick better than 2nd or 3rd round pick. After Washington traded for Keenum on March 7th, sources close to the Skins were saying they haven't lost interest in trading for Josh Rosen. The possibility of this trade won't occur until after day 1 of the 2019 where the Cardinals will determine their future with the 1st pick.
3. Wide Receiver
The 2018 NFL season was not a glorious year for the Redskins offense. Washington ranked 29th amongst all NFL teams in total receiving yards in 2018. If the Skins wanted to even get a sniff at a playoff birth, they will need to drastically improve skill at wide receiver. There are multiple options and ways Washington can find the answers to their problems but with many stars waiting to be born in the upcoming draft, the Skins could look to rebuild their struggling offense with rookies.
(Photo Credit: AZCentral.com)
Option #1: N'Keal Harry
After a spectacular junior season at Arizona State University, WR N'Keal Harry has been shooting up every teams draft board. In 2018, Harry caught 73 passes for 1088 yards and 9 touchdowns. With such a big build at 6'4 and 213 pounds, Harry is receiving star waiting to dominate in the NFL. At ASU, he was able to become a star even with such a mediocre offense. Harry was the person the Sun Devils would rely when they needed a big play in crunch time.
NKeal Harry The GOAT @NkealHarry15 pic.twitter.com/vuIYZNbjKe

— Reporter Liam 🦖 (@Blutman27) December 29, 2017
Sitting at No.15, Washington should be able to select him with their pick. But, the best scenario would be trading down and earning another 2nd or 3rd round pick and selecting him later in the 1st round. In the majority of mock drafts, Harry is projected to go between the 20th pick and inside the top 10 of the second round. With the addition of Harry, the offensive production of WR would have a major increase. N'Keal Harry should be at the top of the Skins prospects list they could select.
(Photo Credit: HERO Sports)
Option #2: D.K. Metcalf
The football world went crazy for Metcalf heading into the NFL Combine. In the days leading up the event, he posted picture with him and his friends that showed off his spectacular physique. He told reporters that he only has 1.6% body fat on him! At the combine he was sized at 6'3 228 pounds and at that size he shocked scouts when he ran a 4.33 40 yard dash and benched 27 reps of 225 pounds. In his sophomore year at The University of Mississippi, Metcalf played 7 games and caught 26 passes for 569 yards and 5 touchdowns.
Reminder, Ole Miss WR DK Metcalf is 6-3, 228 pounds, can vert 40.5", runs a 4.33 40, and can do this…
pic.twitter.com/3hqJRm93EQ

— Rob Paul (@RobPaulNFL) March 2, 2019
Although D.K. Metcalf had a stellar performance on the running and weight lifting events, he was struggling at the drills that involved receivers only. He received some criticism from the press after his showing at the NFL combine. in Todd McShay's newest mock draft, he has them being selected at the 9th pick to Buffalo.
But, if the negative feedback that was given to Metcalf lowers his draft stock, the Redskins may be able to snag him with the 15th pick. Metcalf's combination of size and speed is desperately need at WR in Washington. Like Harry, he would instantly become the Skins 1st option and have a great effect on the teams success. This offseason could very well dictate the future of the organization and the status of Jay Gruden after the 2019 season is over.